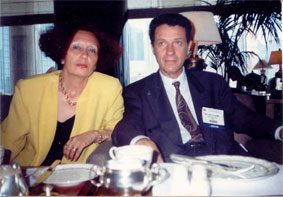 Alberto Colombo lives in Como (Italy), is married and has three children.
He graduated in political sciences at the Catholic University of Milan.
Languages spoken besides Italian: English, French, Spanish, German.
He is interested in studying ethnic-linguistic minorities.
Formerly: Director of International Division of Mycis Company S.p.A., President of ATRI (Association Travel Retail Italy) and member of the board of ETRC (European Travel Retail Confederation) of Brussels.
He is now concentrating his activity on Mongolia.
Only Italian to be awarded - in 2006 - the gold medal of 800th anniversary of Great Chinggis Khaan Empire from the President of Mongolian Republic.
He cooperates with Federico Pistone - an Italian journalist - supporting his cultural and social activities in favour of Mongolia, as well as his idea to bring to Europe typical Mongolian products.