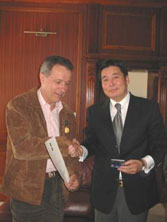 Mongolia Discovery Europe (MDE) acts as an atypical consultant in many fields, but only for Mongolia.
The activity starts in 2003, when Alberto Colombo is contacted by a Holding - based in Ulaanbaatar - in order to develop its contacts and to acquire new brands for Mongolian market.
As the engagements keep on growing, his daughter - Chiara - begins to co-operate with him.
MDE is now involved in supplies to Mongolia of consumer goods - such as fashion and accessories, perfumery and cosmetics, drugs and para pharmaceutical products - and tourism services, and recently it is introducing Mongolian products (household goods) in European markets.