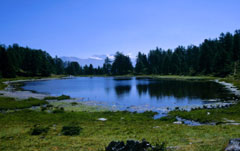 Fulfill your vacation fantasy and your dream of adventure
Come and visit Mongolia, one of the least known but most inviting destinations in the world, the land of eternal blue skies and majestic green mountains. You will be welcomed by free spirited and openhearted people who live in harmony with nature, moving their herds over the endless grassland, stretching to the horizon.
In Mongolia, one of the last resorts of virgin land, the beauty of dazzling pristine wilderness will captivate you. You will leave behind all the routine trifles and pressures of everyday life. Your senses will be stirred by the kiss of a steppe wind, while riding a horse and racing across the vast plains to where land meets the sky. Unwind in a Mongolian Ger and enjoy the taste of fresh mare's milk.
You will visit places where the ancient hearts still beat in the nomadic traditions. Art, culture and history unfold before your eyes, taking you to the glorious past of the descendants of Chinggis Khan.
And through it all, your travel will be handled with outmost care by the hospitable and experienced staff of MonDiscovery Tours Co. Ltd., who will create a sense of well-being and make your Mongolian holiday something to remember.